Succeeding in the music industry is hard work.
You're competing with literally millions of people crawling their way to the top.
However, most of these people don't know how to effectively market themselves or their music. They put out song after song, hoping they'll be discovered by a label executive or somehow go viral.
While this does happen, it's extremely rare, and setting the unrealistic expectation that it will happen to you is a recipe for failure. Instead, set yourself apart from the crowd by learning all you can about different music marketing tactics, and treating your music career as a business.
Assuming you're past the stages of finding great band members to work with (if necessary) and have made high-quality recordings of your songs, here's a list of 50 music marketing strategies to get you started in growing your music career.
Note: This article contains affiliate links where the author may receive a commission.
Email marketing is a must if you want to be taken seriously by anyone in the music industry.
Ask any pro-level musician, and they'll tell you that their most valuable asset is their email list.
That's because a big email list = leverage.
Think about it.
Bloggers want traffic, and rely heavily on email marketing to generate that traffic. Mostly from their own email list.
However, if by reviewing your album, they can get access to your email list as well, it's a no brainer.
Same goes for playlist curators. If adding a song to their playlist will help them get a bump in traffic to their playlist from your email list, adding your song becomes a no-brainer.
For music venues, booking a band or artist with a big email list is an easy decision. To them, a big email list means that artist can draw a big crowd.
Having a big email list put you less in a position of begging people to help you out and more in a position of being worth the time since you have the ability to help them out as well.
These first few tips will help you get started creating and growing your email list. Whatever the case, before you start sending emails, make sure you run them through a grammar check to avoid sending emails with embarrasing typos.
1. Choose the Right Email Marketing Provider
Before you can start growing your email list, you need an email marketing provider.
I recommend Aweber for this. Here's why:
It's only $20/month for up to 500 subscribers. That's cheap. It's like 2 Netflix subscriptions.
It has a clean, easy to use editor so you can create email campaigns quickly with little effort.
It allows for time zone based email delivery so you can send emails that are specific to gigs in a particular city.
You can add attachments to emails - which is great for giving away free downloads of your songs in exchange for an email address.
They have great automation tools. For example, if someone clicks the "tour dates" section on your website, you can automatically send them an email with a link to purchase tickets to a show in their area.
If you want to give Aweber a trial run, you can get it free for 30 days here. You can unsubscribe at any time if you don't like it.
Set up and grow your email list. You won't regret it.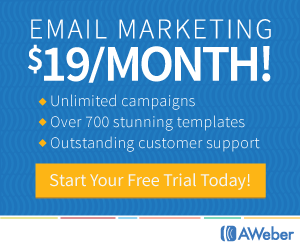 2. Increase Signup Conversions - Limit Required Fields
It's important to only ask for what you need, as too many fields can reduce the conversion rate for mailing lists. In addition to asking for the email address, consider asking for a phone number for text message marketing, and a zip code to determine a subscribers city within the U.S.
You can provide a full screen call to action with apps like SumoMe, or stick a bar to the top of your website asking visitors to subscribe with Hello Bar.
Adding an opt in checkbox to your websites checkout form is a great way to gather emails from your most loyal fans.
5. Add a Call-to-Action to Your Facebook Page
Adding a button to your Facebook page to get mailing list subscribers can help create a mailing list from your Facebook following. Here's how to do it:
Simply click the "Create Call to Action" button on your cover photo.
Select "Sign Up" from the button options dropdown.
Then enter the url to your mailing list and click "Create"
6. Collect Emails at Your Merch Table
Adding a mailing list signup sheet to your merch table can be a great way to collect emails from new and existing fans attending your shows. It's especially powerful when accompanied by powerful incentives - such as free song downloads.
The best part of this strategy is that the people signing up here have already seen you live, so when you send an email about another show, they're very likely to be receptive to that.
For a more detailed look at email marketing, check out our email marketing guide for musicians
Get Smart and Creative with Your Gigging
When most musicians think of music marketing, they think of online music promotion strategies.
Don't limit your efforts to online music promotion. Playing live shows is a great way for musicians early in their career to gain new fans.
Before you start gigging, make sure you have the best gear possible so you can give music fans the experience they deserve. Get the best electric or acoustic guitar, the best amps, and overall best gear you can so that you give new listeners a great first impression.
Here are some ways you can use gigs to grow your fanbase.
7. Play Some (very few) Shows for Free
If someone does ask you to play for free and you're early in your career, don't be so quick to jump on it. Alternatively, if you're a bit more established, don't be so quick to say no. It's important to assess the opportunity.
Here are some questions you can ask a promoter when you're asked to play without pay:
What other artists are playing?
When do we play in relation to other artists?
How many people will be at the show during out set? (it's important to specifically ask about the expected audience size during your set. Many promotors will give totals when asked otherwise, but many people will show up later in the day.)
Will we be able to sell merchandise?
If the opportunity really is going to provide a huge leap in the size of your fanbase, it's for a cause you believe in, or it's for a huge conference or event, go for it.
If you're a new musician or band and don't have much experience playing live, it might be a good idea to take what you can get for practice and even small amounts of exposure. Don't play too many shows out of your hometown early on - it's important to build your local fanbase before branching out.
In the extremely early stages, any amount of free exposure is good. Pay close attention to the type of people who love your music, and figure out how to get in front of more of these people using targeted music marketing strategies.
8. Play with Established Artists in Your Scene
If you play a show by yourself, it's going to be hard to draw a new audience. If you're new, it's going to be hard to get anyone to show up at all.
A great way to add a jumpstart to your fanbase is to play with musicians who have a much larger fanbase than yours. Network with local artists in your area, or in cities you're touring to - check out their social media followings (both in size and engagement), and reach out to new artists who you'd like to play a show with.
Finding New Musicians to Gig With
Facebook is a great way to find new musicians of a similar size and genre to yours. Here are some easy way to do that.
Go to the Facebook page of an artist in your niche and targeted city.
Like the page.
Then you'll see a whole list of recommended pages based on what that artist's fans have liked.
Simply click through the options, message the artists, and repeat the process as many times as you need. These recommendations can be great ways to find new musicians, especially if you're using this method from your own page, because that means there's some fanbase overlap and you can increase the perceived value of the event among ticket buyers.
If you already like the artists page, unlike it, leave the page, come back again, and like the page again to see the recommendations.
9. Don't Gig Too Often
If you play every weekend in the same city or town, your shows will lose their value.
Think about it like this - if your favorite band played in your city every weekend, how likely are you to go this Saturday? How likely are you to spend a good amount of money on the ticket?
Chances are, you'll put it off.
Separating your shows increases the urgency of each event. Your fans are less likely to put it off, more people will show up, and it's a better show for everyone involved.
In addition to some of the other ideas listed in the post, here are some things that are specific to promoting shows.
10. List Your Shows on Bandsintown and Songkick
Both Bandsintown and Songkick use various databases to find local events, but you can sign up for Bandsintown as an artist to ensure all the information about your events is correct. For Songkick, you can sign up for Tourbox.
11. Send Emails to Local Mailing List Subscribers
If you're going to attempt to book original gigs, having an email list is a must. Venues want to know that you're going to be able to draw a crowd, and if you can show them a sizable email list of people you're going to promote the event to, you can greatly increase your chances of getting booked.
When you create your mailing list, make sure you segment subscribers by location so you can send them relevant links to buy tickets. This is much more effective than simply sending the entire tour dates list to every subscriber, and results in less people unsubscribing from your mailing list.
12. Create an Event on Facebook
Create an awesome event photo for free with Canva, set up the event on Facebook, and invite everyone you know. You can also promote the event using Facebook ads.
13. Publish the Event in Local Event Calendars
Check the websites of local churches, newspapers, and other media outlets in your area to see if they have event calendars. If they do, look into how you can be included in the calendar.
Music Marketing via Distribution
Music distribution is how you get your music to your fans.
Music marketing isn't just about how to get new fans, but it's also about using the right distribution channels to ensure your music is in the right places so existing fans can easily find it. While some may visit your website, most will seek out your music on download or streaming service.
14. Make Sure Your Music and Merchandise is Everywhere
Using digital distribution services like TuneCore or CDBaby, you can get your music on most of the popular music services around the world.
However, there are lots of other music platforms that don't accept music from these services for specific licensing reasons, like Soundcloud. It's important to make sure your music is on these services as well, as they often have a loyal following.
When it comes to merchandise, make sure it's available everywhere your fans might look for it - your website, Bandcamp, and Amazon.
Why stop at digital? While it's not many, some people do still buy CD's. Consider selling your music, and even your merchandise, in local retail stores in areas where you have a dense fanbase.
15. Upload Your Music Video to More than Just YouTube
While YouTube is the largest online video service, uploading your music video to other platforms can help you expand your reach and offer additional music video promotion.
Since not as many people upload music videos to less-popular platforms, you have less competition, which increases your odds of getting discovered by music fans, making these less popular platforms great music marketing channels.
Here are some other places you can upload your music video, and how they can help you reach more music fans.
I know what you're thinking - "I can just share my YouTube video to Facebook."
This is true, but there are benefits to uploading your music video directly to Facebook. Here are a few:
Facebook likes when you use it's platform, so by publishing your video straight to Facebook, they're more likely to show it to more people.
Facebook has more data about it's users than YouTube does, which means you can collect better data about who's viewing your music video, and have better targeting when it comes to using Facebook Ads.
Great discoverability - when you watch a video on Facebook, that's been uploaded to Facebook, they recommend more videos. This means if someone is watching a music video similar to yours, they might be exposed to yours next.
Vimeo is the artistic cousin of YouTube. Their users are more concerned with quality, while YouTube users often upload fail or cat videos.
Vimeo has a more artistic audience than YouTube, so people who come across your video are likely to be impressed a music video with great attention to detail. This can lead to a higher number of shares if your music video is high quality.
DailyMotion is another platform that focuses on quality of videos. Videos here are often categorized, with professional, higher-quality ones being featured.
The categorization on DailyMotion makes it really easy for users to browse and discover new videos, which can make it a great source of discovery for your next music video.
Note: If someone other than you uploads your music video to these services, you can request that it be taken down. To do this, you will need to prove that you own the rights, so make sure you copyright your music.
16. Get Your Music Played in Restaurants, Retail Stores, and Other Businesses.
Restaurants and retail stores play music to enhance the customer experience. If your music matches the style of a local business, see if they'll play your music in their premises.
There are also many services that offer music for business as a subscription, so reaching out to them and pitching your music might provide you with some additional exposure - especially if it leads to your song being played in huge chains with thousands of locations.
If you do this, make sure you have your music registered with BMI, ASCAP, or SESAC so you can earn royalties. Additionally, for discovery, add your music to Shazam so the businesses customers can easily identify your song.
Social media is a great marketing tool for musicians, however, many musicians use it incorrectly - spamming people with music video links in messages and comments in an attempt to get more followers and likes.
This doesn't work. Social media isn't just about getting more Facebook likes for your band - if you want to have success in social media, it's important to treat it as a tool for fan engagement rather than a promotional platform.
Don't try to be on every social network. Instead, pick 3 that are best for you based on your fanbase demographics, then move onto the others as you grow.
If everything you post on social media is promotional and an attempt to drive sales, people aren't going to care about your posts, and may unfollow you. To keep followers and drive engagement, it's a good idea to follow the social media rule of thirds:
One third of your posts should be promotional.
One third of your posts should provide value to your fans.
One third of your posts should engage fans in some way.
Follow this rule, and you're more likely to see a highly engaged following, which is what record labels, managers, and booking agents look for when looking at social media stats.
18. Schedule Your Posts
Timing is everything on social media. It's important to understand your fanbase, and know when they use different social networks. The time of day that you post on social media can dramatically affect engagement.
So that you can post to different social networks at the best times without sitting at your computer all day, use something like Hootsuite
to pre-schedule your social media posts throughout the day.
Here's a cheat sheet to help you schedule your posts on different social networks.


The Best Times to Post to Social Networks – Cheat Sheet was created by First Site Guide Team.
19. Facebook Marketing Tips for Musicians
Facebook is the biggest social network in the world, with more than 2.5 billion users, so when it comes to social media marketing, Facebook is a must.
What to Post on Facebook
Remember, your goal on social media is to engage with your fans, not constantly post about your music and ask your fans for money.
According to this article by Simply Measured, statuses get the most comments, but video gets the most shares.
When to Post on Facebook
When scheduling Facebook posts, you want to post when users are the most engaged.
When is that?
Take a look:
Source: CoSchedule
Where to Post Your Music on Facebook
You want to post your music on your Facebook artist page, but consider looking for music related groups within your niche with members that may be interested in looking for new music.
20. YouTube - Optimizing a Music Video for Success
It's not enough to simply post your music video to YouTube; you need to set it up for success with a great title and description. Since YouTube doesn't have a way of analyzing the actual contents of your video, it works off of the text.
This article can provide you with some great advice on optimizing your video so it can be found on YouTube more easily. It's also important to effectively promote your music video.
Twitter is a great social network for getting your music in front of an entirely new audience. With hashtags, retweets, and even likes, Twitter can expose your music to an interested audience.
Like any other social network, Twitter users are more engaged at different times during the day.
Source: CoSchedule
22. Instagram
Instagram is all about beautiful, engaging photos. If you're releasing a new album, this is the place you'll get great feedback on the artwork. Album artwork, band pictures, and even pictures with fans can result in high levels of engagement.
When to Post on Instagram
Again, scheduling posts is important. Here are the best times to post on Instagram:
Source: CoSchedule
23. Pinterest
Like Instagram, Pinterest is all about images. Creating boards for high quality album art or band member interests can result in a large amount of organic exposure through Pinterest's platform. Boards can even show up in Google search results.
When are Pinterest Users Most Active?
Pinterest users seem to be active weekend nights:
Source: CoSchedule
24. Reddit
Reddit is all about becoming an active member of the community without coming off as too promotional. For more details, we've put together a reddit music promotion guide.
25. StumbleUpon
StumbleUpon can be an amazing source of free traffic for your music videos and social media pages. Users of StumbleUpon identify what they're interested in (including music genres), then click a big orange "Stumble" button to discover new content. This is great for musicians, because StumbleUpon users are actively seeking something new.
Before you can submit a link with tags to StumbleUpon, you must meet the following criteria:
Your account must be over 24 hours old
You must set a Profile picture
You must have a minimum amount of Stumbles (however, they don't reveal how many this is.)
After you've used StumbleUpon, you can add links with specific tags here.
Get Press
While online music marketing is extremely important in todays digital world, offline music marketing still holds value.
26. Stories in the Local Newspaper
If you've accomplished something interesting, or have a unique story, the local media may be interested. In some cases, it's as simple as calling them and seeing if they'd be interested in an interview, but if you're less connected, you may need to write a press release.
Check out this guide on writing press releases by HubSpot, with some awesome examples.
27. Reach Out to Music Bloggers
Reaching out to music bloggers isn't as hard as you'd think. Unlike mainstream media, you don't need to write press releases. Some bloggers actually prefer that you don't write a press release.
If your music is good, you can score a number of reviews for it. Check out these guidelines for improving the efficiency of your outreach efforts.
28. Radio Interviews
If radio stations in an area near an upcoming show are already playing your music, they may be interested in an interview. This can result in increased awareness for your show and your music.
Crowdfunding Your Album
Crowdfunding doesn't just provide a way for you to fund your next album - it also provides you with exposure to the crowdfunding platform's audience.
29. Picking the Right Crowdfunding Platform - Kickstarter vs Indiegogo for Musicians
When choosing between Kickstarter and Indiegogo as your crowdfunding platform, it's important to consider the size of the audience, and the number of similar projects.
While kickstarter has a larger audience, Indiegogo may have less competition in the music space: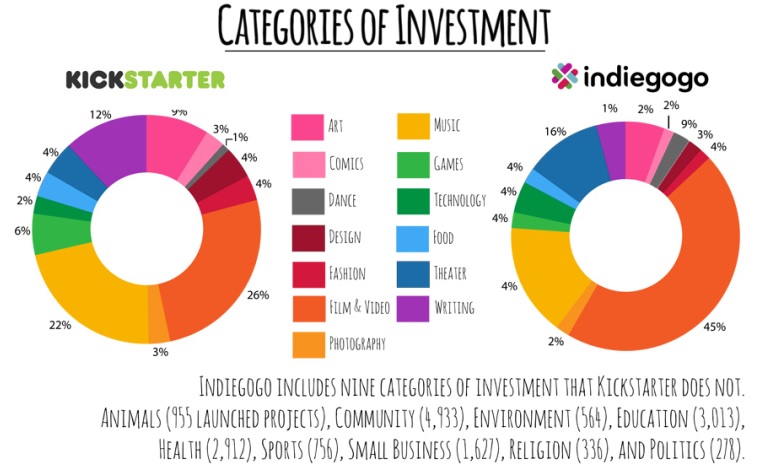 Whichever platform you choose, you're bound to get a good amount of exposure for your music simply by being a part of the platform.
30. Have Enticing Rewards
Basic rewards like downloads of your album are good, but don't be afraid to get crazy with your offers. Let people donate enough for you to fly out to see them for a private show, or even fly them to your album release show. One big donation can make a huge difference in how quickly you're able to raise the money.
31. Get Your Story Right
Why are you raising money for this release? Don't make if about you, or even your fans - provide a story that lead up to you choosing to crowdfund your album.
32. Engage Your Supporters
If someone backs you, send them a personal thank you email. This can go a long way, and if they respond, you can ask them to share some of your music on social media.
33. Try Backercamp
Backercamp can offer some additional paid promotion for your crowdfunding campaign. If you're inexperienced in the world of crowdfunding, or need help, this may be a good option. It starts at as low as $50.
34. Understand the Chances Success
Around half of music projects get successfully funded according to Kickstarter stats, which is awesome. Even if you don't meet your crowdfunding goal, it's likely that you'll receive some exposure from the campaign.
Get Your Music Played on Radio Stations
Getting any kind of radio airplay is a great way to quickly be exposed to a large audience. Pitching radio stations will result in a lot of rejection, but when you finally get a "yes," it'll be worth it.
35. Upload Your Music to Internet Radio
Many internet radio stations like Pandora have a review process before accepting your music onto the platform. However, there are many internet radio stations and music services that accept most music submissions.
If you do submit your music to Pandora, make sure you have high quality recordings (though you should have high quality recordings before releasing music anyway).
Getting played on college or FM radio stations is a great way to expose your music to a dense population, which is great for touring. When considering radio promotion, you want to educate yourself on the arts of direct mail and cold calling.
Simply put, reaching out to radio stations over the phone is a massive cold calling effort. Bigger radio stations are likely owned by huge corporations that are in bed with the major labels, but there's opportunity to be found for independent artists and labels in smaller radio stations and the college radio market, so don't think it's out of reach for you.
If you don't have a big budget, and want to go at it DIY, check out this guide on promoting your music to radio stations. If you do have the money, you can hire a radio promotion company to reach out to radio stations on your behalf. These companies have existing connections at radio stations, and can give you play reports to help with touring efforts.
37. Get Played on Satellite Radio (SiriusXM)
While large FM radio stations are likely to play music from major labels, satellite radio may offer some exposure for you as an independent musician.
Simply find a station that plays your type of music from SiriusXM's list of stations, and submit your music to the programming department:
Attn: Music Programming Department
SiriusXM
1221 Avenue of the Americas
New York, NY 10020
Get More Plays on Music Streaming Services
Getting found on music streaming services is another valuable way for you to grow your fanbase for free. Having great artwork, getting placed in well-followed playlists, and connecting with DJ's can work in your favor.
38. Have Awesome Artwork
Album art is extremely important for the online music world. In most cases, your music will be prominently featured with album art being the first thing people see - before ever hearing your music. If you want a chance at someone clicking the artwork to hear your song, the image better look worth clicking.
39. Get Placed in Well Followed Playlists
Getting placed in a well-followed, niche playlists can quickly expose your music to hundreds, or even thousands of people. Simply find playlists that contain your style of music, and reach out to the creator of the playlist on social media or directly through the social music platform you're using.
40. Find DJ's to Remix your Music
People often visit Soundcloud or Mixcloud to find remixes of popular songs. By having your music remixed and re-published to these platforms by a popular DJ, you can reach a new fanbase quickly.
Paid Advertising
If your music is already spreading somewhat virally through word of mouth marketing efforts, paid advertising can really accelerate the growth of your fanbase.
41. Google Adwords
Target ads on Google at people searching for new music in your scene. For example, if you're a heavy metal band, try targeting some of these keywords:
Heavy metal bands near me
New heavy metal bands
Songs with awesome breakdowns
Advertisements targeting these keywords on Google can provide cheap access to new music fans if done correctly, and with Google Adwords, you only pay for clicks.
On a pay-per-click basis, these keywords aren't very expensive.
42. Facebook Ads
Advertising on Facebook can provide various opportunities to you as a musician. Here are some types of ads, and how you can make use of them:
Boost your post
You can pay to boost your post on Facebook so more people see it. With Facebook's organic reach being low, this can get your posts in front of more people who like your page, boosting likes, comments, and shares for important messages.
Promoting your page
If you have the budget, a quick way to get more likes for your page is to simply advertise it. You can target Facebook's massive user base by music taste, device, and more.
Lead ads
If you're looking to build your mailing list, a quick way to do that is with Facebook lead ads. These ads are pre-populated with a users information that's been shared with Facebook, such as their email address, city, and phone number, which makes it a smooth process for them to complete the form and subscribe to your mailing list. You can use these ads to target people who've already liked your page to turn them into mailing list subscribers.
43. YouTube Ads
If you've just released a music video, you can advertise on YouTube using video or banner ads to quickly generate more views. With so many other music videos on YouTube, it's possible to target users with very specific music taste.
Let me show you something.
I'm going to go to Emirates website to search flights.
I entered in flight details and selected my flights, bringing me to the "Review" part of the checkout process.
Then, I closed my browser.
Now look what I see on the right side when I open my browser back up and log in to Facebook:
An ad for Emirates.
That's re-marketing, and it's a great way to increase sales. Many of your website visitors were likely about to purchase some music or a T-Shirt, but left. In fact, most people don't make a purchase the first time they visit a website.
Using remarketing ads on Facebook, Google's Display Network, or Adroll can help you generate more sales from fans who've visited your site, browsed around your merchandise pages, and left without making a purchase by reminding them of what they were buying as they browse other websites.
Here's an illustration of how a typical remarketing campaign works.
Search Engine Optimization
Search engine optimization on the surface seems mysteriously difficult, but at it's core, it comes down to proper optimization of your website, and how many links are pointing to it from other, more popular websites.
We've published a huge guide about how blogging can increase your website traffic, how to convert that traffic into email subscribers, and how to turn those email subscribers into sales. Check it out.
Here are some ways you can optimize your website so Google will find it.
45. Blog
Blogging adds pages to your website, which increases the chances that you'll show up in search engines like Google for more keywords. Be sure to optimize each blog post so that it's likely to be highly ranked in search engines.
46. Build Links to Your Website
Link building is the main method of improving your rankings. There are a number of link building strategies you can use to improve your websites rankings, but when it comes down to building links, it's important to write blog posts people love and will actually want to link to.
47. Submit your URL's to Search Engines
To get your website into Google and Bing more quickly, you can submit each url of your website directly to them. Before you do, make sure you give the pages of your website names that people might search for, such as "-band name- store" or "about -band name-."
Once your pages are properly optimized, you can easily submit your url's to Google or Bing.
48. Build an App
A mobile app can be a great way to stay in touch with our fanbase with push notifications. You can even sell merchandise (though not music downloads on iOS devices) inside your app.
If you want to build an app, check out App Institute.
49. Network and Partner with Other Musicians
Networking with other musicians within your scene and building relationships with them is extremely important. Hang out in music stores, go to local shows, and be friendly to others who are supportive of your efforts. This will benefit you if you ever want to cross-promote an album release, need musicians to play shows with, or even need to find a new band member.
50. Set up a street team
A street team can be a great way to get the word out about your band. You can easily set up a street team by setting up an email list with your dedicated ambassadors, and reward them with free merch and event tickets for their promotional efforts.
---
Hopefully you found this post helpful in brainstorming ideas for marketing your music.
Did we miss something? Let us know in the comments!