Making it in the music industry with a full-time job is extremely rough.
You think you can spend your evenings, and sometimes early mornings, either writing new songs or promoting your music, but this doesn't work well in reality. The lack of sleep you get from those late nights make it hard to be productive and take your music career seriously.
The best thing you can do to build a career in the music industry is to focus on music full time, but how do you accomplish this when you aren't yet making money from your music, and need money to pay the bills?
Note: This article includes affiliate links where the author may receive a commission.
Many musicians settle with a 9-5 day job to earn a living while they get going, but this doesn't work. If you're going to make it in the music industry, you have to quit your day job.
Here are 5 flexible, musician-friendly ways to make money until you have enough fans to support your music career.
1. Paid guest blogging
Blogs are always looking to publish content as frequently as possible to improve their search engine and social media traffic. If you're an awesome writer, paid guest blogging can be a great way for you to make money.
How much can you make from paid guest blogging?
Paid guest blogging opportunities can pay between $50 and $300 per article.
If you're able to develop relationships with blogs that pay out nice sums for their articles, and contribute to these publications regularly, you can make enough to pay your rent with just a few articles a week - even while on tour.
How to get started with paid guest blogging
Before you get started with paid guest blogging, you want to build your online portfolio of articles by publishing high-quality content on your own blog, or one with a bit of a following.
To get started with guest posting, check out this guest posting guide from Backlinko with details on finding guest blogging opportunities and reaching out to the website owners.
Once you've published a few articles on high authority websites for free, you can get started with paid guest posting.
Check out this list of 37 blogs that pay over $300 per guest post, and this list of blogs that pay $50 and up for guest posts. Reach out to the ones that interest you and pitch them some ideas.
Here's an email script to get you started:
Hey [Name],
I was on the search for some information about [Topic] and came across your blog. Awesome stuff!
I'm contacting you because I'd like to contribute an article.
I've been brainstorming some ideas that I think your readers would get a ton of value from:
I'll make sure to include information that's difficult to find elsewhere.
To get an idea of my writing quality, here are some posts I've contributed to [blog 1], [blog 2], and [blog 3]:
[URL to blog 1 article]
[URL to blog 2 article]
[URL to blog 3 article]
You can also check out our blog here.
Looking forward to your response!
[Signature]
Once you get one of your articles published and receive payment, you can easily reach out to the publication again for future articles, which can result in an ongoing income stream for you that lets you write from home or while on tour.
2. Drive for Uber or Lyft
This one won't work while you're on tour, but since you can drive whenever you want, you'll be able to more easily schedule practice sessions with your band members.
How much can you make from Uber or Lyft?
This can depend on what city you live in, and while you do need to pay for gas, insurance, and vehicle maintenance out of pocket, many Uber and Lyft drivers can actually afford to make a decent living.
Here are some averages to help you determine your earning potential: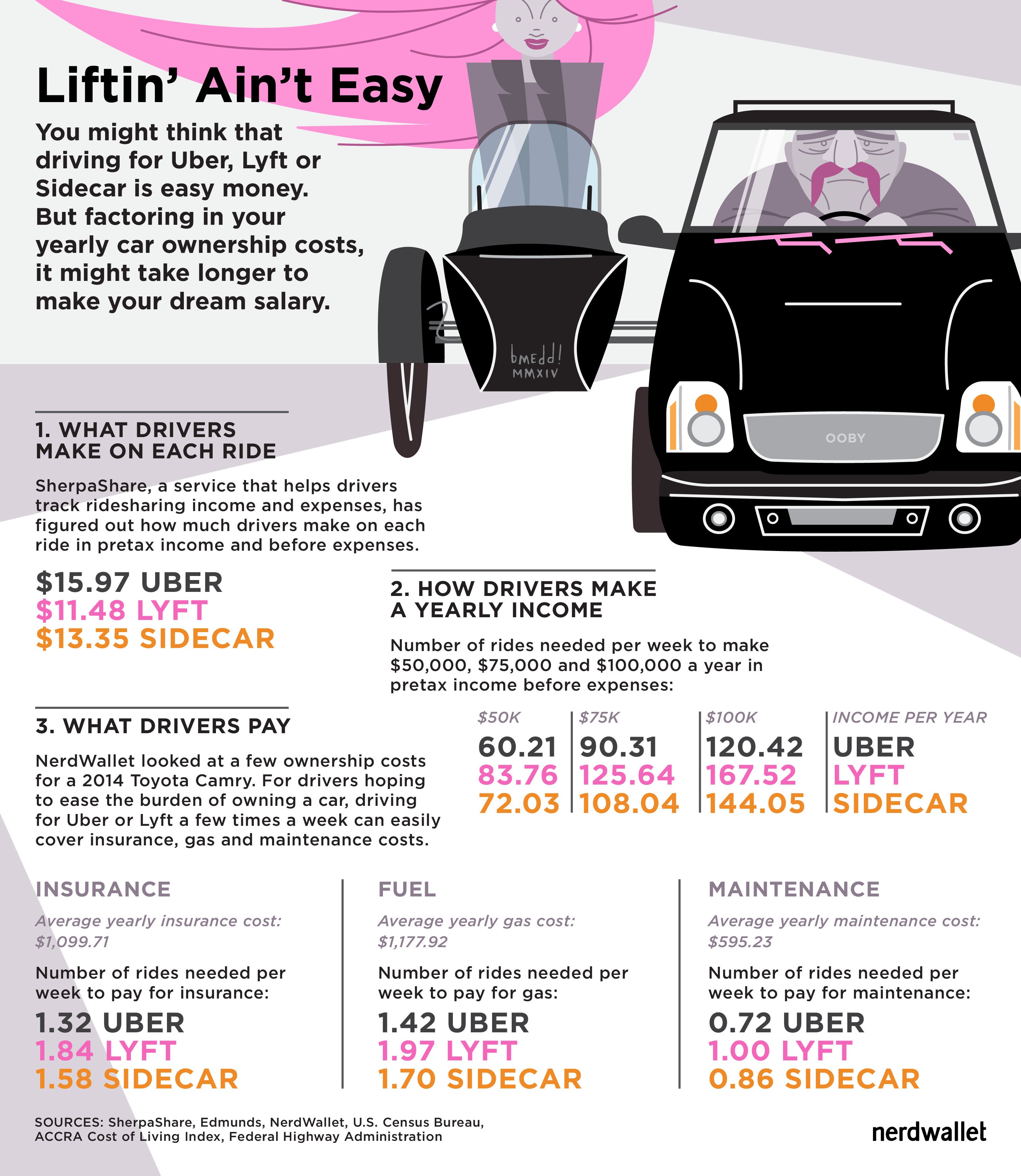 via NerdWallet
While driving for Uber or Lyft will still require a large amount of your time (depending on how much you need to earn), the benefit here is the flexibility to work whenever you want. You can make more efficient use of your time by driving during the best hours and by following some of this advice for Uber and Lyft drivers.
How to start driving for Uber
To drive for Uber, you need to meet the following requirements:
Must be 21 years of age or older with 3 years minimum driving experience.
Must have in-state driver's license.
Must have in-state car insurance under your name.
Must have in-state car registration.
Car requirements vary by city, but all include the following:
Your car must be a 4 door sedan and must seat 4+ people, not including the driver.
Your car must have an in-state license plate.
No marked, taxi, or salvaged vehicles.
Must pass Uber vehicle inspection.
The car must be currently registered, but your name does not have to be on the registration.
You must pass the background check.
If you meet the above requirements, here's how to apply to become an Uber driver.
When I applied to be an Uber driver, the background check took over a month, so if you want to drive for Uber, make sure you get your account set up as quickly as possible. There are no penalties if you decide not to use it.
How to start driving for Lyft
Lifts driving requirements are similar to Uber's, except Lyft only requires 1 year of driving experience, and has more specific vehicle requirements.
Here's the full list:
Must be 21 years of age or older with 1 years minimum driving experience.
Must have in-state driver's license.
Must have in-state car insurance under your name.
Must have in-state car registration.
Like Uber, Lyft's car year requirements vary by city, but all cities require the following:
Must have four doors. Each door must have a handle accessible from the exterior of the vehicle.
All signals, lights, high beams, hazards, turn signals, brakes, fog lamps, and other lights must work.
A/C and Heat must work. A space heater and windows that roll down don't count.
All of your windows must roll up and down fully.
No cracks in windshield, windows, or mirrors. (leeway on minor damage as long as it does not obstruct driver field of vision.
The body must be in good condition. More on that later.
Working horn.
Tire tread depth must pass the penny test: put a penny in the tread with Lincoln's head facing down. The tire treat should overlap his head. (This is the actual standard instructed to Lyft Mentors).
Tailpipe and mufflers must work properly.
Seat-belts. The all need to work.
Seat Adjustments must be in working order.
You must pass the background check.
You can find more information about Lyft's driver requirements here.
If you meet the above requirements, you can apply to become a Lyft driver here. Once you set up your account, they'll walk you through the entire application process via email.
3. Freelancing
Freelancing is another option for working at home and while on the road.
If you're skilled in things like programming, web design, or another high-demand skill, freelance work can help you pay the bills while being able to use your time flexible.
How much can you make as a freelancer?
How much you make with a freelancing job depends on the type of job you're doing.
Many freelancers charge more than what they would make at a full-time job because of the time it takes to find new clients, but on average, freelancers make about $21 per hour.
How to get started with freelancing
The first step to getting started with freelancing is to respond to requests for work on freelancing sites.
If you don't have any reviews or previous experience as a freelancer, it's a good idea to start working at a low hourly rate to build your reputation so it becomes easier to get work in the future.
Make sure you choose a site that's fit for the type of work you're doing. Some sites like Upwork and Freelancer provide freelancing opportunities for a wide range of skills but exploring niche sites like 99Designs and Toptal have a more focused audience.
However you choose to find work, the best work will come from making your customers happy and encouraging them to continue re-hiring you so you don't have to invest time in finding more work.
4. Retail Arbitrage
Retail arbitrage is a type of involves buying something from a retail store and selling it on an online marketplace like eBay for a profit.
An common example of this is a business model known as Amazon to eBay dropshipping - a type of business that involves selling on eBay while using Amazon to fulfill your orders. It works like this:
1. You find products on Amazon that are selling for much more on eBay.
2. List that item on eBay.
3. When an order is placed, order the item on Amazon and enter your customers shipping details.
Because you can do all of this from your laptop, this is a business you can operate from anywhere - even while you're on tour!
To make things even easier, there's even Amazon to eBay dropshipping software available.
This is just one of the many types of eBay dropshipping businesses you can run. The alternative to the retail arbitrage approach is getting a deal with a dropshipping supplier, but since many other businesses likely have deals with these suppliers already, you'll find yourself competing for the sale.
If you live in a city that attracts a lot of tourism, Airbnb can be a great source of passive income for you.
Airbnb lets you rent out your extra room or couch to travelers who book places through their app. I've used Airbnb while traveling before, and it's a great way to meet new people. Even hosts love it because they get to meet travelers from all over the world.
How much can you make from Airbnb?
Your earning potential on Airbnb depends heavily on how much tourism your city attracts. To give you an idea of what your income could be, check out these rent and occupancy averages per city from SmartAsset: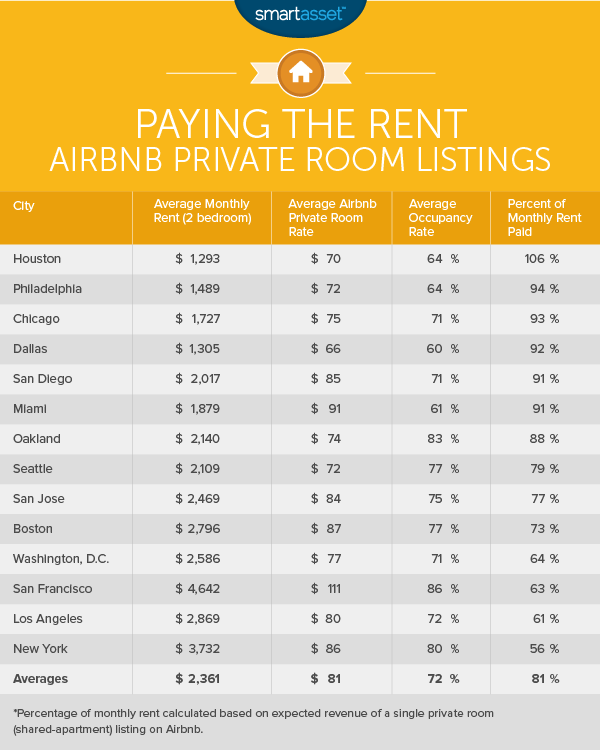 You can also head to Airbnb's host page to see an estimate of what you could earn in your area.
How to start renting your room on Airbnb
Before you host on Airbnb, it's important to get your landlord's okay.
If your landlord is okay with you renting your space out on Airbnb, then to get started, head over to Airbnb's host page and log in or create an account.
Once your account is created, set up your listing with high-quality photos, an awesome description, and competitive pricing to get a large inflow of requests.
When you get your first guest, make sure you take good care of them so they'll leave positive reviews. Good reviews can help increase your occupancy rates, which can allow you to increase your prices due to the higher perceived quality of your listing.
Conclusion
The most important thing to do early on in your music career is to open up as much time as possible to perfect your craft and get your music noticed. Hopefully, these ideas can help you become more flexible with your time so you can reach your goals of success in the music industry.
What are some creative ideas you have for funding your music career early on? Let us know in the comments!