Sometimes, you just reach a point in the day where you feel like there's nothing else you can do to push yourself forward in your music career.
Either you've done all you can for the day, or the day is nearly over and you feel that there isn't enough time to complete anything worthwhile.
Maybe you've spent all day researching new music marketing and promotion strategies, but haven't taken action.
Whatever the situation, doing nothing isn't going to get you anywhere. Here are 10 ways you can get your music heard that you can execute upon daily.
Note: This article contains affiliate links where the author may receive a commission.
Email marketing is a must in the music business. If you plan on taking your music career seriously, it's important that this is one of the first things you knock out.
If you don't have an email list, nobody in this industry will take you seriously.
Email marketing helps you earn gigs
A well-sized email list can get you booked for gigs more easily.
If you can show venues that you have a large number people you can send an email to about an event, they're automatically convinced you'll be able to draw a crowd - which means they'll be able to sell more drinks.
If they think booking you will help sell more drinks, then having you play at their venue is much more of an interest to them.
...and helps you get heard by bloggers and playlist curators.
Having a big email list also helps you get heard by bloggers and playlist curators more easily.
Think about it - bloggers and playlist makers want traffic. One of the biggest sources of traffic for bloggers is their email list.
But, if these influencers can get access to someone else's email list, that's even better.
If by reviewing your album or adding it to their playlist they can get it shared to your entire email list for a bump in traffic, why wouldn't they?
With email, you own your fans
An email list is the only way for you to actually own your fans contact information in a way that lets you have guaranteed contact with them.
On average, emails get an impressive 34.24% open rate and 6.42% click thru rate in the arts and entertainment sector, but social media sites like Facebook are reducing the number of fans who see your post for free.
Once you get people on your email list, you can contact them about new album releases, shows, and merch items for free forever! (Well, as long as they're subscribed.)
How to start your email list
We have a whole guide here about starting and growing an email list, but before you can grow your email list, you need an email marketing provider.
I recommend Aweber for this. Here's why:
It's only $20/month for up to 500 subscribers. That's cheap. It's like 2 Netflix subscriptions.
It has a clean, easy to use editor so you can create email campaigns quickly with little effort.
It allows for time zone based email delivery so you can send emails that are specific to gigs in a particular city.
You can add attachments to emails - which is great for giving away free downloads of your songs in exchange for an email address.
They have great automation tools. For example, if someone clicks the "tour dates" section on your website, you can automatically send them an email with a link to purchase tickets to a show in their area.
If you want to give Aweber a trial run, you can get it free for 30 days here. You can unsubscribe at any time if you don't like it.
Set up and grow your email list. You won't regret it.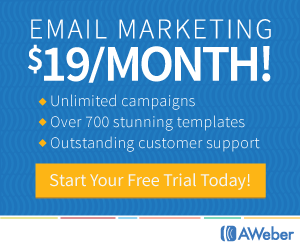 2. Send your music to a radio station
Getting radio airplay can provide a huge boost in your music career.
Not only will it help you reach new fans, but the fans you can generate from being played on the radio will be densely populated, which can lead to new touring destinations for you.
If you plan to promote your music to radio stations, make sure you copyright your songs and register your music with a performance rights organization so that you can get paid for your spins.
Before sending your music to radio stations, it's important to make sure you have a Promo CD with final recordings on it, NOT a demo. Radio stations will play the music straight off of the CD you send to them, so you want to send the highest quality recordings possible.
Once you've gotten your Promo CD ready, identified a radio station that is likely to be interested in your sort of music, and found the contact information of the stations program director, send the music using first-class postage so you can properly manage follow-up timing.
For more detailed information about how to get played on the radio, check out our radio promotion guide.
3. Reach out to a music blog for a review
Getting your music reviewed on a popular blog can provide nice, short term growth in the size of your audience.
Once you've found a blog that may be interested in reviewing your type of music, reach out with a short email that's easy to read with plenty of white space, similar to this...
---
Hi [Name],
I came across your blog via your review of [Album] by [Artist]. Awesome stuff!
I thought you might be interested in reviewing our album, since we have a similar audience to [Artist].
Here's a link to one of the songs on the album: [URL]
Let me know if this interests you and if you need more info. Either way, keep up the awesome work!
Cheers,
[Signature]
---
Do this at least once a day, and eventually you'll land a review.
If you get a response, be sure to email back as quickly as possible. This way, you're more likely to land the review sooner rather than later, and the blogger is less likely to forget about your request.
4. Post on social media
When you should post on social media depends on which social network you're using, as different social media sites have different use cases. For example, the best time of day to send a tweet is around noon and between 5-6pm, while Facebook users are more active during the afternoon, at around 3pm.
For each social network, make an effort to understand user activities and schedule your posts accordingly with social media scheduling tools like Hootsuite
.
Comments can be a great way to drive traffic to your new music video or website.
However, there's one thing most musicians do that causes this strategy to fail.
They spam.
Don't spam comments on popular blogs, music videos, or on social media in an attempt to drive traffic your way. This can damage your reputation online since people will see this as self serving, and most who see your spammy comments won't even click through.
Instead, earn referral traffic by providing valuable, insightful, or funny comments (depending on the source) that rank well for a particular piece of content. This can lead to a consistent flow of referral traffic if the content you're commenting on has lasting value.
6. Write a blog post
Blogging is a great way to increase the amount of traffic to your website from Google, and can be great for building your mailing list.
When you write a blog post, make it about something that resonates with your audience. Be sure to keep your blog focused, and write consistently to keep your readers interested.
When you start your blog, set up a newsletter to send out each time a new article is published. At the bottom of your newsletter, include a link to some new music you've released.
7. Reach out to a playlist curator
Having your music placed in a popular playlist on a streaming service or on YouTube can provide a consistent boost to your fanbase size.
Find a playlist that fits your audience's music taste, then reach out to the creator on social media to see if they'd be interested in including one of your songs.
8. Look at your analytics
Data tells a story about how your fans are interacting with you.
If you're able to identify drop-off points in your sales funnel, or figure out which source of music discovery is bringing in the most valuable fans, you can focus your efforts on the most powerful channels.
Sometimes, diving into the data can help you figure out ways to make your music go viral.
Take time to look closely at your analytics (where available) to find areas where you can build on existing growth channels, and maybe even find new ones.
9. Learn something new
Knowledge is power. Learning about new strategies for promoting your music, increasing efficiency, or managing your band like a business can help uncover creative ways to make a living in music.
So subscribe to email lists of blogs (like the ones listed here) with powerful information about the music business so you can find ways to stand out.
10. Spend $10 on advertising
I get if - you're trying to save up $500 for that new guitar. However, not all of your fans are going to come from free marketing sources, so you need to invest money into your marketing as well. To maintain the growth of your fanbase, you're going to need to throw some money at advertising.
Weather this is to generate mailing list subscribers with Facebook lead ads, getting in front of listeners with promotions on Dozmia, or taking a stab at video ads on YouTube, it's important to keep a close eye on which source provides the best return for your investment.